Testimonials
We are blessed to have worked with very special bridal parties. These are some of their thoughts about their wedding day photography.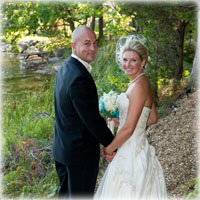 Eric, I cannot even begin to tell you how WONDERFUL the pictures are. Greg and I are stunned and are having a difficult time choosing for prints.
Thank you SO much for all of your hard work through the whole thing from beginning to end! We absolutely love the photos...
Shara and Greg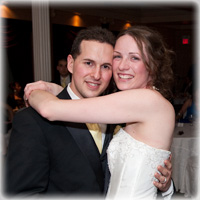 Eric, how can we even begin to thank you? The photographs are phenomenal and the bridal album is better than we ever could have imagined. Your artistry, creativity and attention to detail show through in each photo. The little details like taking photos of the pew numbers in the church to later be used as the wedding date in the bridal album just added that extra special touch.
Your easy-going nature made it a pleasure to have you around and certainly helped alleviate some of the wedding day stress. Our guests even complimented us on how well you were capturing the day and how easy it was to work with you.
Again, we cannot thank you enough and will not hesitate to recommend you to friends, family or anyone needing a photographer to capture that extra special moment.
Stephanie and Matthew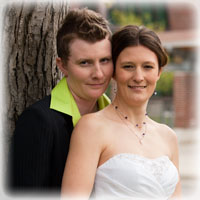 AMAZING!!!! Is the only way to describe Eric and ebophoto. Eric made every moment of our big day memorable by capturing it all. I cannot even begin to describe how amazing all of our photos look and how wonderful our bridal album is. Each page of the album is as breathtaking as the one before it. He has left us with an amazing album so we can relive that day for the rest of our lives. Not only were our photos amazing but Eric's hard work, professionalism, strategic planning, awesome ideas and personable character had all our guests raving about our photographer. I highly recommend ebophoto to everyone that wants to have an amazing wedding photographer who will show how precious life's moments really are. Eric, everything that you did for us was incredible and we can't thank you enough.
Lindsay and Katey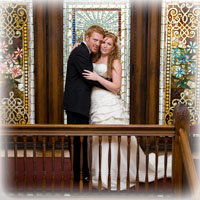 Both Bob and myself are delighted to of had Eric as the photographer for our wedding. He ensured that every expectation that we had was met through his detailed planning of the locations. His professionalism, personable character and love for photography was noticed by all who attended and anyone who sees his work is in absolute amazement. The Bridal Album is one of a kind with special care added to every picture, it really allows you to relive each moment captured. We recommend Eric to anyone with an upcoming wedding who wants to have every memory captured through his captivating photography.
Bob and Kathryn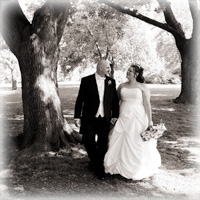 Eric was so easy to work with, he asked us what specific photos we wanted to be captured on our wedding day while also keeping an open mind to suggestions from family and friends the day of. With all of the madness that surrounds you when you get married, Eric was a godsend, he kept us on track while managing to get the most amazing pictures I've ever seen. Our Wedding Album is breathtaking, everyone who's seen it is amazed at how stunning it is, with all of the pictures flowing together to tell the story of our fairytale wedding. I would recommend Eric Bosch to anyone who wants to truly capture the memories of their special day in an exceptionally creative way!
Shannon and Charlie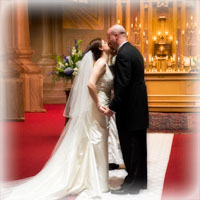 Our experience with Eric was better than we ever could have hoped for. We wanted a photographer who was discreet but personable. We didn't want to be cognisant of photos being taken in our faces. Eric quietly goes about taking photos without missing any opportunities to capture key moments all the while not letting on that he is even in your proximity. There was never the pressure to smile, pose or play up to the camera. Nor did we ever feel like we were being ordered around like we have been witness to at other weddings. He just goes to prove that a photographer does not have to do this to get great photos. I personally do not like having my picture taken or being the center of attention and I have always thought that I would never find a photographer that would make me feel comfortable through an extended period of photography. I was wrong. Eric took beautiful pictures of the whole wedding party and our families and everyone felt comfortable and at ease. We really appreciate the time and care that Eric took throughout the process and to ensure that we had a wedding album that we will always treasure. Thanks again Eric.
Andrea and Mike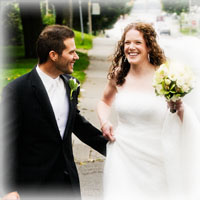 Eric, We want to thank you so much for the wonderful job you did on our wedding day! Your attention to every detail and commitment to getting the best shots were beyond impressive. Things like researching the locations where our pictures were taken, remembering every wedding party members name (12+ people), and bringing umbrellas on our potentially rainy day show how much you care about your clients, and allowed us to have complete trust in you. Most importantly, we could not be happier with our final pictures and wedding album. We could have never envisioned the artistic flare and special added touches that you used in each of the photographs. Along with our friends and family, we are in awe of what you have done and would not hesitate to recommend you to anyone requiring the services of a professional photographer!
Jane and Ryan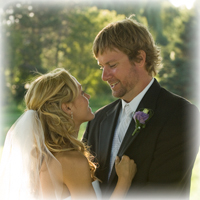 I wanted to take this opppurtunity to thank you for the amazing pictures that were taken...you captured our day beautifully. We absolutely LOVE our wedding photos! You caught the serious moments, the tender ones and the "I might laugh so hard I'm going to cry" ones. It's as if all the emotions of the day are contained in our photographs. Your artistry, skill and talent come through so clearly. It is very obvious that you really love what you do and that your passion is truly visible. We couldn't have dreamt of having a better photographer for our special day. Thank you very much!
Stefanie and Karl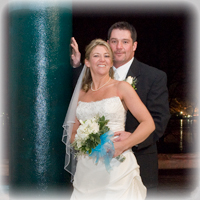 Both Kevin and I are thrilled with the photos. Eric was truly able to capture the emotion of the day as well as the beauty of the amazing winter evening we were blessed with. From the excitement of the pre-wedding photos, to the warmness of the ceremony, to the fun had by all of our guests at the reception, Eric's photos eloquently tell the story of our very special day!! Thanks so much!
Lisa and Kevin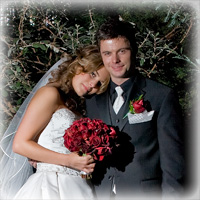 Working with Eric alleviated so much of the stress that a wedding day can bring. Even in meeting with him well before the wedding, we knew that he was the type to pay attention to every detail. With Eric's creative eye he has turned our pictures into a work of art. Our album turned out even better than we had expected and everyone who sees it is as blown away as we were by its' uniqueness. Eric approached every situation as a professional and we cannot imagine our wedding day without him. Other than deciding to marry each other, hiring Eric was one of the best decisions we made.
Meg and Dan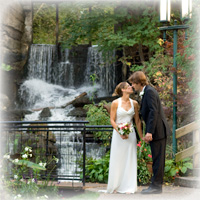 We lucked out in having Eric as photographer for our recent wedding. His easy-going nature was a wonderful asset on such a busy day. Our favourite part about his photography was that he used different camera angles for all of the pictures, utilizing the venues to their fullest. This created so many wonderful pictures that it took us many hours to narrow down our favourites. We would recommend Eric without hesitation and are thrilled with the quality of the pictures he has produced for us.
Les and George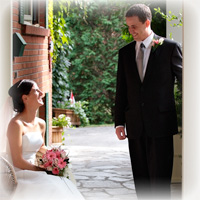 First off, All I have to say is "WOW!" The pictures you have sent us are great. Steve and I are very happy with them and are having a lot of trouble picking our favorites.
Secondly, Steve and I really appreciate what a great job you have done. We know you went out of your way to capture the images we wanted. You have left us with some fantastic memories. Your friendly manner and easy going attitude made our day even more special.
Melanie and Steve
If you'd like to get more details from these couples, we would be happy to arrange that - just let us know!